05 May

Anhad Virtual Seminar

Anhad is a voluntary organization which has been working since 2003 on issues related to democracy, constitutional values, diversity, gender equality and mental health.

When lockdown was announced due to #Covid19 , we realized that the only way to deal with Coronavirus is to socially isolate ourselves. A large number of people were going to be staying at home and they are just not used to it. Anhad decided on one hand to provide food and rations to the marginalized communities and on the other to organize online activities to meaningfully engage people.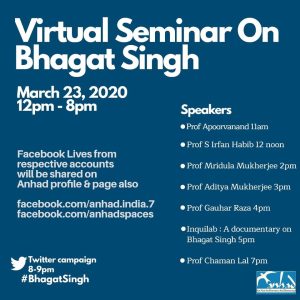 Anhad started Virtual Seminar, Music & Poetry Series on March 23, 2020 celebrating the legacy of Bhagat Singh. Prof S Irfan Habib, Prof Mridula Mukherjee, Prof Aditya Mukherjee, Prof. Chaman Lal and Gauhar Raza spoke on Bhagat Singh and we live streamed Inquilab a documentary on Bhagat Singh made by Gauhar Raza.
The next round on March 29, 2020. We had Sarojini NB who spoke on 'Breach of privacy n confidentiality and stigmatization', Dr Anirudh Kala on 'How to Stay Well and Prevent Worsening of One's Mental Health Issues' and we had three performers Saba Azad, Ankur Tewari and Imaad Shah.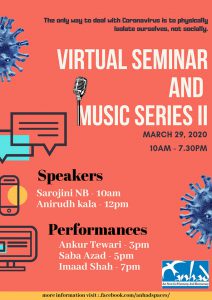 The third series was on April 1, 2020 on Appreciating Urdu and Hindi Poetry. Gauhar Raza spoke on Sahir Ludhianwi's poetry, Ashok Kumar Pandey spoke on Gajanan Madhav Muktibodh's poetry, Raza Haider spoke about Asrar ul Haq Majaz 's poetry and Dr. Syeda Hameed spoke about Zehra Nigah's poetry.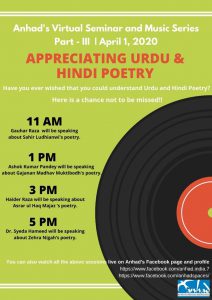 The fourth series we did in collaboration with Children's first on April 5, 2020. We had Dr Pramit Rastogi on Loss and Longing as An Individual , Session 2 covered Navigating Family Dynamics and we had three segments : Challenges Faced by Young Families by Soumini Menon, Developmental Psychologist, Challenges Faced by Adolescents and Young Adults by Bhavya Kulshreshtha , Counselling Psychologist and Difficulties Faced By Individuals Living in Unsafe Families, Marginalized Communities, Severe Mental Illness by Harshita Kaushal Counselling Psychologist. Session 3 was on Expressive Body for Self-care by Ritu Shree, Developmental & Expressive Arts Therapist and Session 4 on An Arts Based Metaphor to Guide Us Through These Challenging Times by Ankita Khanna, Psychologist & Arts Based Therapist. These were not live sessions were recorded specially for the series and live streamed.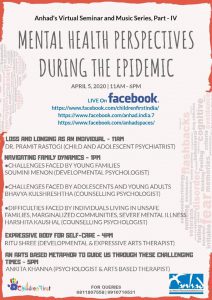 Anhad Series Part- V we called अँधेरी रातों में ज़िन्दगी के गीत on April 11, 2020. It started at 11 pm and went till 2 am. We had singers Vedi & Pakhi Sinha, Dhruv Sangari and Shashai Bhushan Pandey.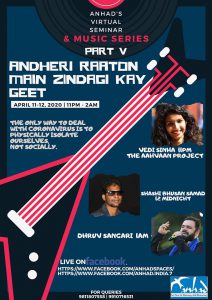 Anhad Series Part- VI was on April 15, 2020 on Role of Media in Present Circumstances with Bhasha Singh, Niranjan Takle, hartosh Singh Bal and Seema Mustafa.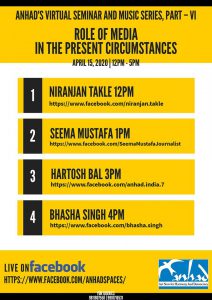 Anhad Series Part VII was on April 18, 2020 on poetry. Naseeruddin Shah & Ratna Pathak performed Vikram Seth's The Elephant & the Tragopan . Javed Akhtar recited his poems , Shabana Azmi recited Kaifi Azmi's poems and their English translations and Gauhar Raza recited his poems .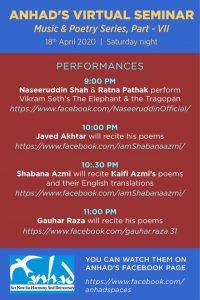 Anhad Series Part- VIII was on Youth, Mental Health, Lockdown & Coping Mechanisms on April 20, 2020. We had four young speakers who have faced mental health issues. They included : Seher Hashmi, Deshdeep Dhankhar, Eisha Roy and Kanmani Ray LR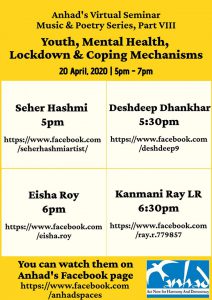 Anhad Series Part- IX was on Lockdown and After: Economy, Condition of Migrant Workers & Failure of the State on April 23, 2020. The speakers included: Prof Arun Kumar, Anjali Bhardwaj, Prof Atul Sood and Kavita Krishnan.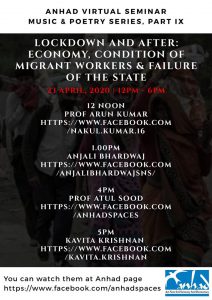 Anhad Series Part- X was on April 25, 2020. It was called कविता की एक शाम. The poets included Savita Singh, Rajesh Joshi, Vishnu Nagar and Ashok Kumar Pandey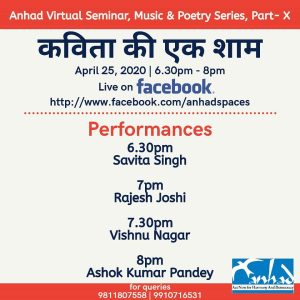 Anhad Series Part- XI was on April 29, 2020 on Challenges before Contemporary India. We had Prof Purushottam Agrawal as the speaker.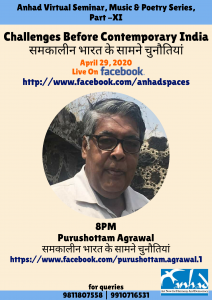 Anhad Series Part- XII was on May 2, 2020. It was an Evening of Music. Singers included Poojan Sahil, Mannu Kohli and Madan Gopal Singh.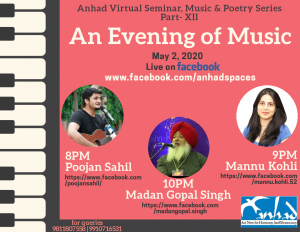 Anhad Series Part – XIII was on May 5, 2020 on Diversity and Pluralism in India. Speakers included Vivek Sachdeva, Ganga Sahay Meena and Sohail Hashmi.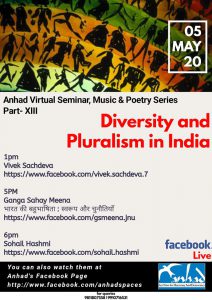 Anhad Series Part- XIV was on May 7, 2020 on Communalisation of India and the speakers included Kalpana Kannabiran, Harsh Mander, Ram Puniyani and Gagan Sethi.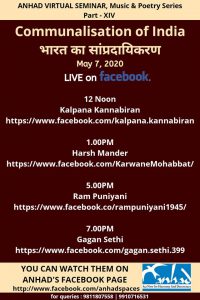 All the live talks, music, poetry were done live on facebook & in a few cases from instagram from speakers/ artists' own pages. Facebook Lives from respective accounts are shared on Anhad profile and page also
https://www.facebook.com/anhadspaces/
https://www.facebook.com/anhad.india.7